Other
aesthetic treatments
In FUEMEDICALCENTER we are specialists in hair surgery, but Dr. Emrah Cinik is an eminent person in the world of cosmetic surgery thanks to his extensive experience in this sector. For this reason, in addition to the most diverse and efficient techniques in hair transplantation, within our catalogue of services you will also find an extensive offer of aesthetic treatments of other characteristics and equally in demand.
Turkey has become the European capital of both hair transplantation and cosmetic surgery, which is why FUEMEDICALCENTER is also a reference in this last field. Our medical team is made up of specialists with extensive medical training, who share Dr. Emrah Cinik's passion for aesthetics and quality medical care.
At all times we seek to achieve the satisfaction of our clients and improve their quality of life through their image, and for this reason at FUEMEDICALCENTER we offer prior medical advice before any aesthetic intervention, regardless of its complexity. You will find in our catalogue services such as eyebrow implants, hair grafting in women or botox injection, treatments about which you can get information by contacting us using the form below.
The relationship between the eyebrows and the hair implant is something that until a few years ago was not considered, since even hair surgery was not advanced enough to be considered a recurrent practice. Nevertheless, eyebrow implants are a very popular cosmetic treatment today.
As with most hair grafting procedures, eyebrow implantation is generally performed using the FUE technique, the most demanded and effective hair transplant technique.
After delimiting the area to be treated, a donor area is located on the scalp or any other part of the body where valid hair follicles grow. These follicles are carefully extracted using a motorized tool called punch, which protects the follicular bulb as it is removed. The follicles, once removed, are carefully treated with a chemical compound to proceed with implantation.
In the alopecic areas of the eyebrow, or in the areas where we want to achieve greater density, microchannels are created in which the follicular units are introduced with care and precision, always respecting the orientation of the hair to obtain a more natural result.
The duration of the operation varies between two and five hours, since it depends on the crafts or follicles to be grafted. The procedure is painless, since local anesthesia is used during the operation, and does not leave scars, which is why recovery is very fast and the optimal and permanent result after a few days. It is a cosmetic treatment that not many people take into account because they do not know that eyebrow hair can be implanted, but more and more people are requesting this practice to achieve the look they have always wanted.
Moreover, one of the main advantages of this practice is the price of the eyebrow implant, a price that is adjusted to other factors related to travel and accommodation when the operation is performed in Turkey, the reference point for cosmetic surgery in Europe.
Botox is one of the most widely used aesthetic treatments by plastic surgeons. It is a very practical resource that allows for practical and visible results, which is why many people resort to this product to achieve smoother skin.
What is Botox?
The botulinum toxin is known worldwide as "botox" because the first medicine used with this toxin had that name. This toxin is characterized by causing muscular paralysis and is used to treat certain diseases, but its most well-known use is in aesthetic medicine, since this sector takes advantage of this paralysis to deal with the expression wrinkles that are generated in the face.
Benefits of Botox
Botox has one major advantage and that is that it does not require surgery. In our clinic of aesthetic medicine we have a team of specialists prepared for all types of interventions, among which is the injection of botox, a simple, fast and painless procedure that guarantees the patient visible and lasting results, although not permanent.
Despite being a toxin, botox has no contraindications except in specific cases. It is essential to request this treatment from a professional, since the botox process involves a relaxation and consequent muscular paralysis of a specific muscle, and an injection in the wrong place can lead to unpleasant results. Likewise, it is not recommended to abuse this practice.
In FUEMEDICALCENTER we inject botox in the face, since this is the most common use of this product, together with botox in the lips. According to the patient's wishes and after previous advice, the specialist doctor locates the muscle into which the toxin should be injected, the effects of which last between 5 and 6 months. Another advantage of botox on the face is its price, since it does not require surgery and since it is such a popular technique, it does not involve a large outlay.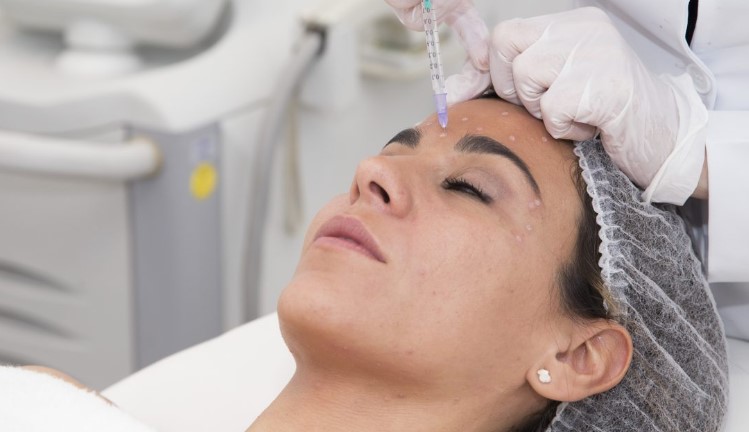 More information about the treatments.
Contact us to solve all your doubts about the different aesthetic treatments we offer.